Email Backup
for the masses
The easiest way to maintain email backups on your
Mac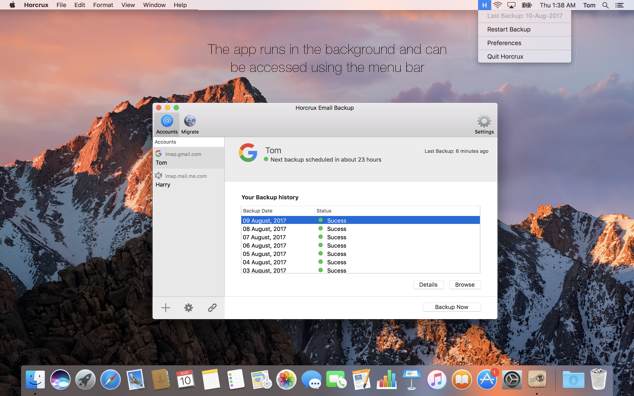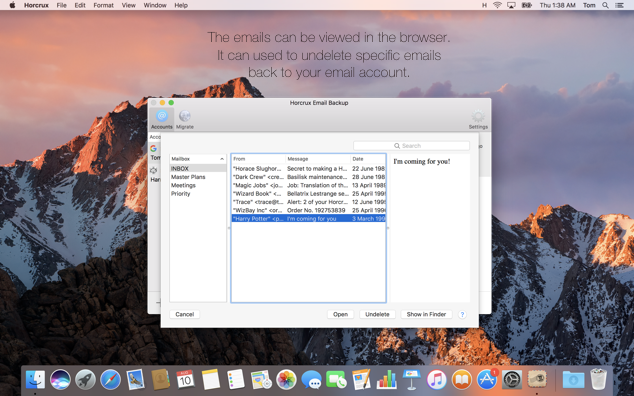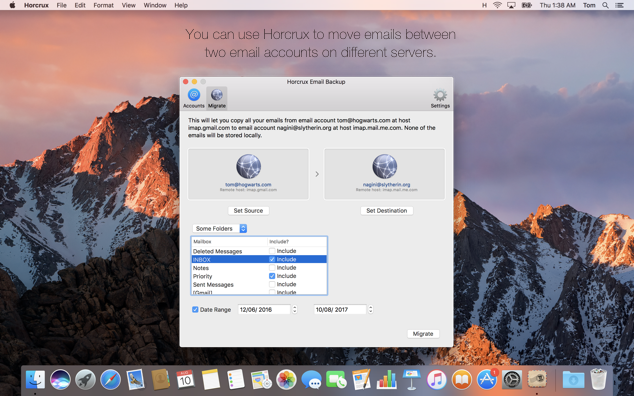 Automatic. Unobtrusive. Portable
"Horcrux is handy since you don't actually have to think about it when it's running"
Works Everywhere
Horcrux uses the standard IMAP protocol to access the emails. IMAP is a common protocol used by most email service providers like Gmail, iCloud, Outlook, Exchange etc to fetch emails. Don't worry, we've made it super easy.
Easily restorable snapshots
In case you inadvertently delete an important email, you can undelete it with just a click. Also included is a migration assitant in case you need to move to another email service.
Multiple accounts
You can add any number of email accounts. Backups will be made in the set frequency.
Customer Reviews
Very good app to keep your Gmail messages safe ★★★★
by @regeek
Imagine if you lost years of your correspondence by loosing access to your Gmail account. And you need to search THAT message with vital information now. Horcrux can save your life and wallet in a very unobtrusive way. Recommended app for every heavy Gmail user.
---
Does what it says very well ★★★★★
by Houndsoul
This app literally saved my digital life. I was setting up scan to email on a certain unnamed scanner and possibly I entered some wrong settings. Since my email is IMAP based, this for unknown reasons wiped out my entire mailbox trash included, Thanks to this app and its daily backups I was able to get it all back.
---
Just does the job perfectly ★★★★★
by TL-Photography
I seem to have my whole life on email and it's all stored in the cloud which scares me. This was exactly the type of program I had been looking for. All I wanted was something to just backup in the background and know that I would not loose everything if the worst happend. Simple little program which does the job perfectly. Thanks for developing.
---
Saved me !! ★★★★
by Gellfling
I had a friend wanting to move his hosting, moving his email accounts. I setup Horcurx to backup his 5 email accounts. I went to move his current email but as i had to remove IMAP accounts and readd the email was gone. I used the restore feature and am now uploading his email to the new server. Thank you
---
Made moving from one gmail account to another easy! ★★★★★
by PatriotHero
The independent IMAP server to server migration tool is all I have used so far, and I am SOLD!!! Excellent app!!! It was worth the price just to make that migration go smoothly and quickly. I am excited to actually try the backup functions too, but the price is worth the IMAP server to server migration capability. I had read articles about using Thunderbird as a go between for moving from one account to another, but I had numerous time-out issues on large folders or folders with picture attachments. I struggled for days doing one migration. Then before doing another migration, I looked some more online and in the app store. I did not like the price of this app, but I liked the sound of an independent IMAP server to server migration. It pushed through and moved evrything beautifully and easily… no hiccups, no timeouts, NO PROBLEMSA AT ALL! After numerous headaches trying the Thunderbird move and dealing with all those issues, I was SUPER HAPPY with how easy Horcrux Email Backup made the email migration. THANKS!