Welcome to the Horcrux blog!
Posted on
We're excited to announce the release of the newly redesigned Horcrux Email Backup 4. Being a programmer at heart and building it had made the app for mostly tech oriented crowd. We started out redesigning beginning of this year. We started collecting user surveys, made many mockups to finally come up with the swanky new design. 😎
Here are the things that you should know.
1) The account page has things that matter on the first page – Reliability. The progress of the backups are shown much better now.
(Before, the backup history was hidden in the health tab)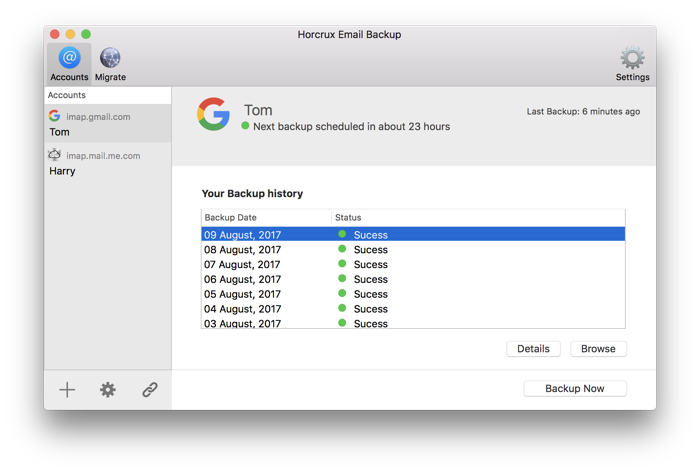 2) The Migrate tab is now super cool letting you manage different types of scenarios of taking your data with you.
It also has settings where you can migrate only some folders or migrate only emails in a certain date range.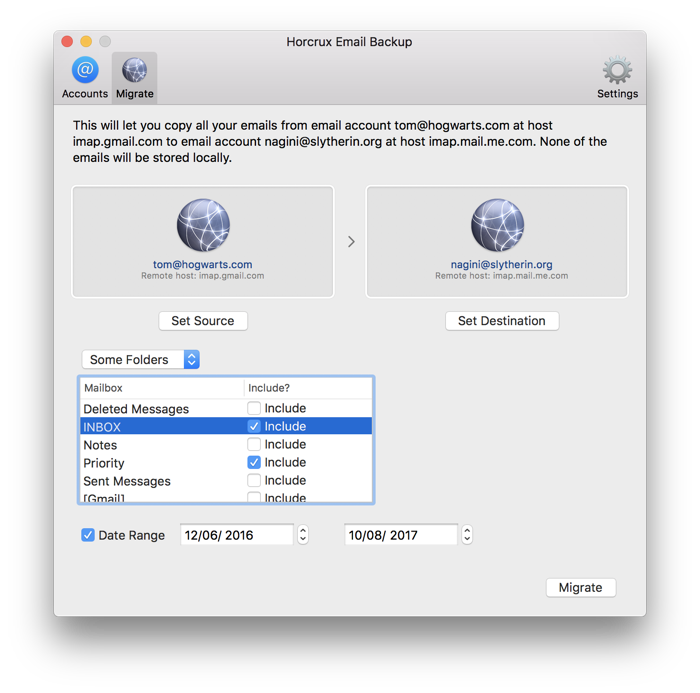 3) We moved away from the symlinks way of saving the backups. It used to create millions of aliases creating problems when you try to copy these to another place as well as taking more space (An alias takes the minimum block size of the hard drive)
4) We have deprecated .zip file as an email archival format. It's not standard for the email archival world. We suggest you use .mbox file for email archival. In case you have old .zip files from Horcrux, please go to File –> Legacy –> Restore using ZIP.
5) More improvements on the way. For example: We'll make it easier to move the Horcrux setup from one computer to another. We'll be making this a more serious deal from now on. You'll have a much better product in hand.
We're open to suggestions as well. Let us know what you think.
Thanks for being supportive and patient along the journey.
We seem to have the best customers ever!

Cheers, 🍻
Suhas
Posted on
Everyone likes more backups. The new update lets you automate your multiple backup strategy with a feature called "Hooks". After a backup is completed, the data can be in a way piped into other services.
As of now, we've implemented  these hooks. Please do let us know other ideas you might have for automation hooks.
Migrate: After a backup, the data is migrated to another IMAP account of your choosing. Essentially giving you another server backup.
Copy: The data is copied to another location in the filesystem (like NAS folder or Dropbox). Creating multiple copies of your data.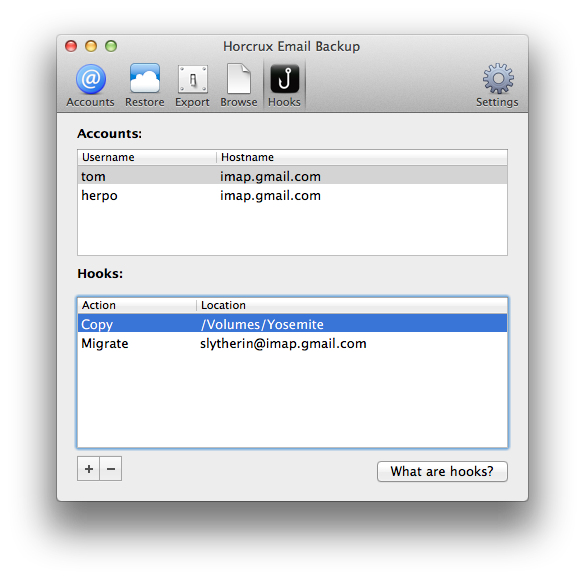 Thanks to Tadeu Bento, Matthew Graves for the idea!
Posted on
We are proud to announce a new app called MBox Office. You can find it on the app store.
It is simple .mbox file viewer for the Mac. You can finally open .mbox files without messing up your email client.
It will also help you migrate the emails in the .mbox file to any IMAP supported email account. If you have old .mbox files lying around, this will help you make use of it.
This was born out of a brainstorming session with the ever so awesome Matthew Waite. Thanks for the amazing feedback.
Posted on
After a month of development and a few sleepless nights, Horcrux 2 is finally out. The best feature is it works on Mavericks. It sheds a lot of baggage from a bad framework we were using before (MacRuby). It's quite fast compared to the previous versions. It consumes a lot less power.
There are a few new features:
You can now disable a few accounts from the backup queue while still being listed in Horcrux. Thanks to Jay Hennessy for the idea.
Another feature is the ability to export the mailboxes into .mbox format. This is a very portable email archival format which many other mail clients use.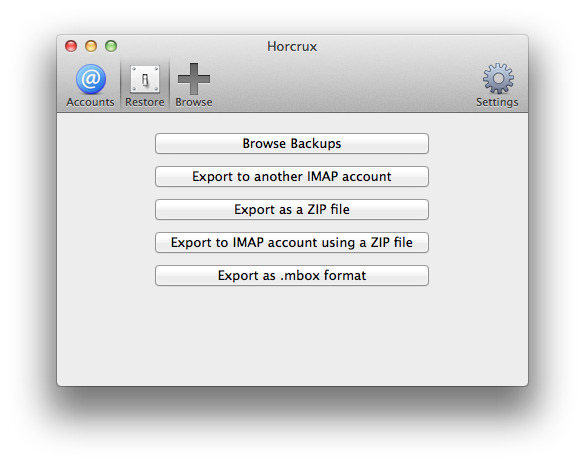 Special thanks to Matthew Waite for reporting the problem and helping us through a few design decisions.