Posted on
We're excited to announce the release of the newly redesigned Horcrux Email Backup 4. Being a programmer at heart and building it had made the app for mostly tech oriented crowd. We started out redesigning beginning of this year. We started collecting user surveys, made many mockups to finally come up with the swanky new design. 😎
Here are the things that you should know.
1) The account page has things that matter on the first page – Reliability. The progress of the backups are shown much better now.
(Before, the backup history was hidden in the health tab)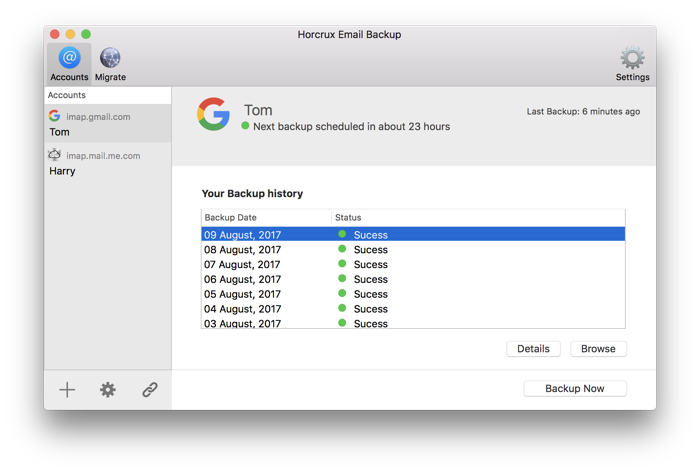 2) The Migrate tab is now super cool letting you manage different types of scenarios of taking your data with you.
It also has settings where you can migrate only some folders or migrate only emails in a certain date range.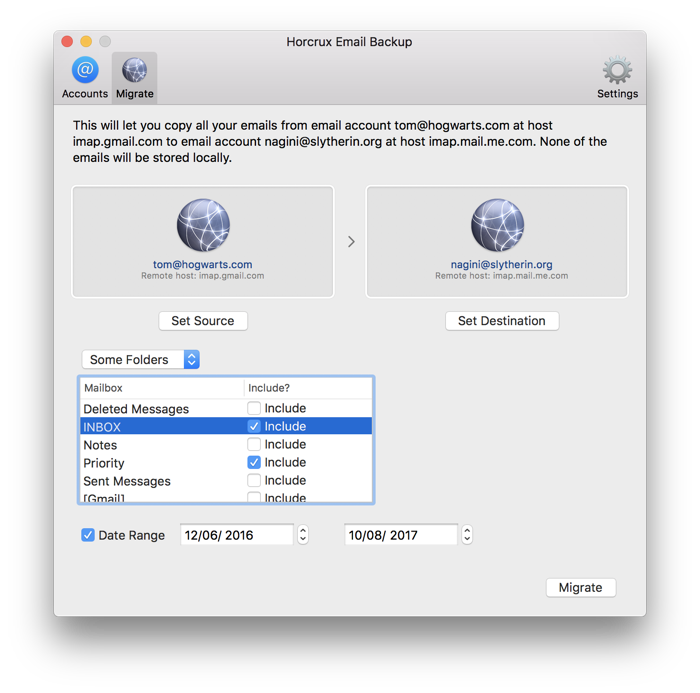 3) We moved away from the symlinks way of saving the backups. It used to create millions of aliases creating problems when you try to copy these to another place as well as taking more space (An alias takes the minimum block size of the hard drive)
4) We have deprecated .zip file as an email archival format. It's not standard for the email archival world. We suggest you use .mbox file for email archival. In case you have old .zip files from Horcrux, please go to File –> Legacy –> Restore using ZIP.
5) More improvements on the way. For example: We'll make it easier to move the Horcrux setup from one computer to another. We'll be making this a more serious deal from now on. You'll have a much better product in hand.
We're open to suggestions as well. Let us know what you think.
Thanks for being supportive and patient along the journey.
We seem to have the best customers ever!

Cheers, 🍻
Suhas